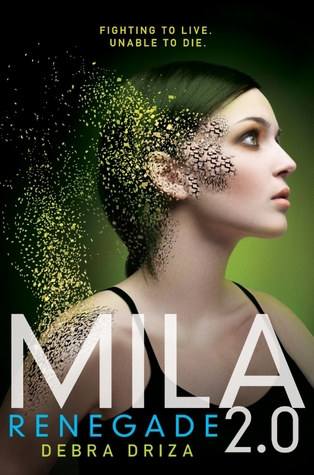 448 pages
Published May 13th 2014 by Katherine Tegen Books
AMAZON
/
GOODREADS
/
B&N
There is no one left for Mila to trust. Except for a boy she barely knows.
But Hunter has no idea who—and what—Mila really is. She can't bear to reveal her secret, even though he's unwittingly joined her search for Richard Grady, a man who may know more details of Mila's complicated past.
Yet the road to the truth is more dangerous than ever. With General Holland and the Vita Obscura scouring the earth for her whereabouts, Mila must rely on her newfound android abilities to protect herself and Hunter from imminent harm. Still, embracing her identity as a machine leads her to question the state of her humanity—as well as Hunter's real motives
*Highlight white text to reveal spoilers*
I've been waiting to read this for such a long time! After that ending in Mila 2.0, I was desperate to find out what happened next.
Well, to start off, I'm very glad that there was more Hunter in this book. Actually, there was more Hunter than I bargained for! I loved how he was so faithful and trusting and loyal. Through him, I saw Mila's character develop. I loved how she was more carefree with him, how she was less anxious and how she felt more... human.
Mila was great in this book. I didn't agree with many of her decisions (not telling Hunter about herself, trusting Quinn
, agreeing to have her emotions wiped
, etc), but despite it all, I was able to empathize and root for her. She stayed strong and never chickened out (except for that
erasing her emotions
thing). Her journey and determination was amazing, and she might be one of my favourite characters of the year.
The plot. Well, I have some good things and bad things here. The good being the twists in the plot. All of them caught me completely off-guard, and if I thought the first book was full of surprises, then the second book trumps them all. Just when I think that maybe things were settling down and Mila could have a little peace, WHAM! Twist after twist, till the very end.
What was not so great was that I felt the book progressed a little slowly at times, mostly at the beginning. I felt Mila was wasting too much time on the
"should I tell him I'm an android, should I not?"
thing. Just a teeny weeny little touch of Second Book Syndrome. Besides that, I really enjoyed the second book in the Mila 2.0 trilogy (series?) and have nothing else to complain about.
Oh, and the ending! CLIFFHANGER BEWARE.
Who do I recommend for?
People who like
-Androids
-A lot of action
-A LOT of plot twists
-Secret agencies
- The first book. Mila 2.0
Final reaction:
Final rating: