260 pages
Published January 24th 2012 by Curiosity Quills Press
Olga Gay Worontzoff thinks her biggest problems are an awful name and not attending prom with Conner, her best friend and secret crush since kindergarten.
Then, Conner is killed in a freak boating accident and Olga feels responsible for his death.
When she downs an entire bottle of pills to deal with the emotional pain, her parents force her into counseling. There, her therapist writes a prescription in the form of a life list titled "18 Things": eighteen quests to complete the year of her eighteenth birthday.
But there's more to Olga's quests than meets the eye and when her therapist reveals a terrifying secret, her world is shaken.
There's only one thing she knows for certain: her choices won't just affect her future, but all eternity.
*Thanks to the publisher for sending me a copy of this book in exchange for an honest review.
So from what I gathered from the title of the series, I was kinda thinking that this was paranormal. Only the book didn't turn out quite the way I thought it would (in a good way, of course). Here are my thoughts at different stages of the book:
Prologue:
Okay... protagonist sounds fun. Snarky, with a cute relationship with her best friend.
Chapter three:
Things are definitely taking a more serious turn, but don't see any paranormal stuff yet, but I can wait.
Chapter eleven:
Right. This is not a paranormal whatever the title of the series says. I'm just going to lay back and enjoy this as a contemporary romance. And oooh, Star Wars references!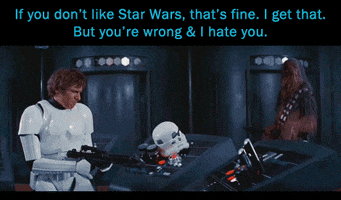 Final chapter:
Holy moly! I was not expecting that. Hmm, a touch of paranormal after all.
This was quite a good book, although it did have its flaws.
1. I liked Olga's character.
Like I said, from the very start, she was relatable and fun. She was snarky, had attitude, and was a Star Wars fan! I really liked how she changed as a person through the course of the whole book. It was amazing character development. Her relationship with her mother and father changed for the better, too. At first, her family was a bit rocky, but they sorted themselves out.
Sorry! Couldn't resist including this! ;P
2. Nate. He was so sweet! He did his best to help Olga, and totally understood that she needed distance for a while. He was patient and understanding and philosophical, and in short, also amazing.
3. The plot. It mostly revolved around Olga's list of 18 things (basically, her bucket list), but it didn't bore me as much as I thought it would. There were certain "blank spaces" where I wasn't entirely sure what happened (eg: In the later part of the book, Olga is referred to as a "wedding crasher" and "world record-breaker", but I wasn't entirely sure how that had come to be.) And the ending was certainly unexpected.
4. Loved, loved, loved the themes. There were lots of Christian ideals and beliefs in this book, which some people might find offensive, but I, personally, loved how the author tackled the various themes touched on by this book.
Who would I recommend this for?
I wouldn't classify this book a paranormal, since it seems very realistic until the very end, so if you're a contemporary fan, you'll like this.The second book certainly looks promising, and my review for it will be coming soon!
Final reaction: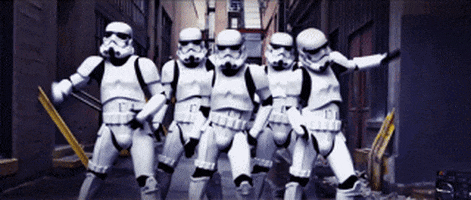 Because I'm happieeeeee...
Ha, ha, sorry. Couldn't resist that one, either. XD
Final rating: